Summer school 2019 at the Amyklaion
06-03-2019 09:24
The Ionian University organises a Summer School on: Excavation Techniques, First Aids & Preventive Conservation

Dates to be held: 8 to 12 July 2019
Venue: Archaeological Site of the Amyklaion , Sparta
Maximum number of participants: 12 people (minimum 10)
Organising and teaching:
Asst. Prof. Stavros Vlizos , Director of the Amykles Research Project and Department of Archives, Library and Museology, Ionian University.
Asst. Prof. Christos Karydis and Asst. Prof. Panagiota Manti, Department of the Environment, Conservation of Antiquities & Works of Art Program, Ionian University.

Summary

The Department of the Environment and the Department of Archives, Library Science and Museology of the Ionian University organise for the first time a Summer School on "Excavation Techniques, First Aids & Preventive Conservation" which is to be held at the excavation of the archaeological site of Amyklaion near Sparta between 8-12 July 2019.
The Summer School is targeted to students and graduates of archaeology programs, art and antiquities conservation, museology, architecture and cultural heritage management. Participants will have the opportunity to take part in the active excavation of the Amyklaion, which is one of the most important sanctuaries of ancient Sparta.
The aim of the Summer School is to introduce theoretical and practical aspects of excavation techniques, on-site documentation and field conservation (lifting and first aid for finds) in a real working excavation environment. The program covers the complete range of work involved in an excavation and includes modern techniques for recording and preserving architectural and portable finds. The program focuses on understanding theoretical and practical means of stratigraphy, aerial photography via the use of drone systems, other documentation techniques and photography, as well as in situ first aid for finds, lifting, and packing for transport and storage of portable finds.
Schedule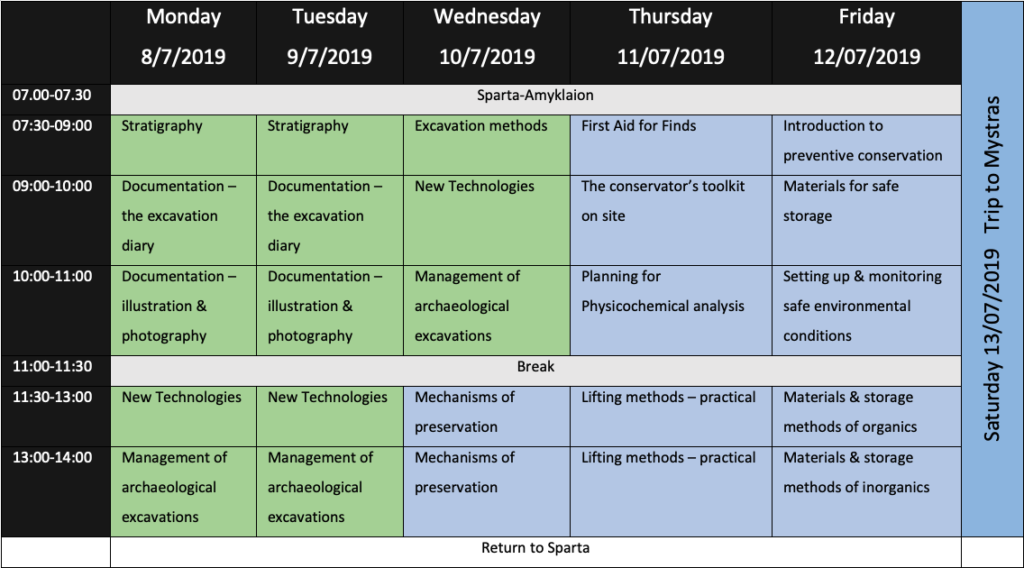 Registration

Applications are accepted until Wednesday, May 1st, 2019 (01/05/2019). To register, please fill out the form you will find at the Summer School's website through the following link https://sites.ionio.gr/efc/2019/en/registration/

Full registration fee: 250 €
Student discount (-20%): 200 €
Registration in one of the two parts (2.5 days): 125 €

Registration fees include all materials, a field trip to Mystras on Saturday, transportation to the excavation from Sparta and back, and coffee/ snacks at the excavation break and certificate of attendance.
Successful candidates will be informed about the result of their application by mid May 2019 and they will be notified of how to transfer the tuition fees to the university bank account.